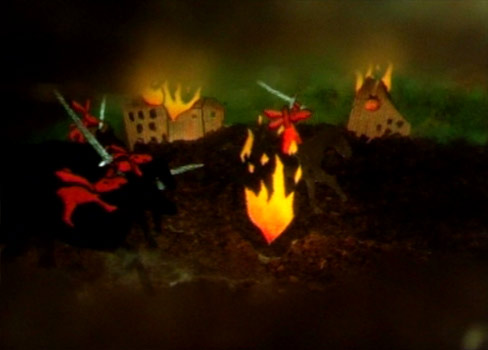 The Hedge of Thorns / Tornehekken
short film 2001
directed by Anita Killi
cut-out; 13 min.
Awards and Recognition
2003
49th International Short Film Festival Oberhausen, best children shortfilm. Prize of the Children's jury.
Fredrikstad Animated Film for Children, best animated film for children
Winnipeg Freeze Frame in Canada, best short film in festival

Cinema delle Donne in Torino, third prize in the short film competition
2002
Nominated for Cartoon d'Or
Berlin International Film Festival - Crystal bear pecial Mention, children's jury
Seoul International Cartoon and Animation Film Festival,
best Film for Young People Award
Annecy International Animation Film Festival - UNICEF Award
Divercine International Film Festival For Children & Youth, Montevideo
Best Short Film / UNICEF Award
Festival Internacional de Cine para Niños (...y no tan Niños) in Mexico. Special Mention for the Best Story, special Mention for Best Direction
Carrousel international du film de Rimouski in Quebec, First price for best Short Film
Nominated to award for High Humantarian Values and nominated to Award for the best Script
Chicago International Children's Film Festival - Liv Ullmann Peace Prize/ 2nd Prize Animated Short Films
Ottawa International Animation Film Festival - Best Film Made for Children
Olympia International Film Festival for Children and Young People in Greece, Best Animation
Freeze Frame International Film Festival in Canada - Best Short Film
Fredrikstad Animation Festival - Best Children Film
International Short Film Festival Oberhausen, Children's Jury Prize for Best Children Film

KROK Internasjonale Animation festival in Ukraine, special mention
XI Divercine International Children`s Film Festival in Uruguay, UNICEF award and best short film
Visuelt in Oslo, gold in open class television /screen based visual communication
2001
FaBU International Film Festival in Sandnes, prize for best international animation film

The Norwegian Short Film Festival in Grimstad, Honorary mention for screenplay, Dolby Diploma for good sound
Florian and Malene are best friends. Every day they play down by the creek. One day the war comes, and the two children are no longer allowed to play together because they are on opposite sides of the war.
The Hedge of Thorns was screened at over 60 festivals worldwide.
About the director
Anita Killi (*1968 in Stavanger, Norway) studied illustration and graphic design at the Norwegian National College of Art & Design from 1988 to 1990, followed by studies in animation and documentary filmmaking at the Volda University College. In 1996, Anita graduated from Oslo National Academy of the Arts with the equivalent of a masters-degree, majoring in animation (multiplane technique). Since then, Anita established and runs her own animation studio, Trollfilm AS in Dovre, Norway. Anita is known for directing several award winning short films, among others Sinna Mann / Angry Man (2009) and Tornehekken / The Hedge of Thorns (2001).